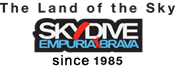 Customer Application Login
CAT- Si ja ets client de Skydive Empuriabrava i no pots accedir (no disposes de les teves dades d'accés), contacta amb la Recepció.

ESP- Si ya eres cliente de Skydive Empuriabrava y no puedes acceder (no dispones de tus datos de acceso), contacta con la Recepción.

ENG- If you are already a customer of Skydive Empuriabrava and you can not enter the application (you do not have you login details), contact the Reception.